May 6, 2022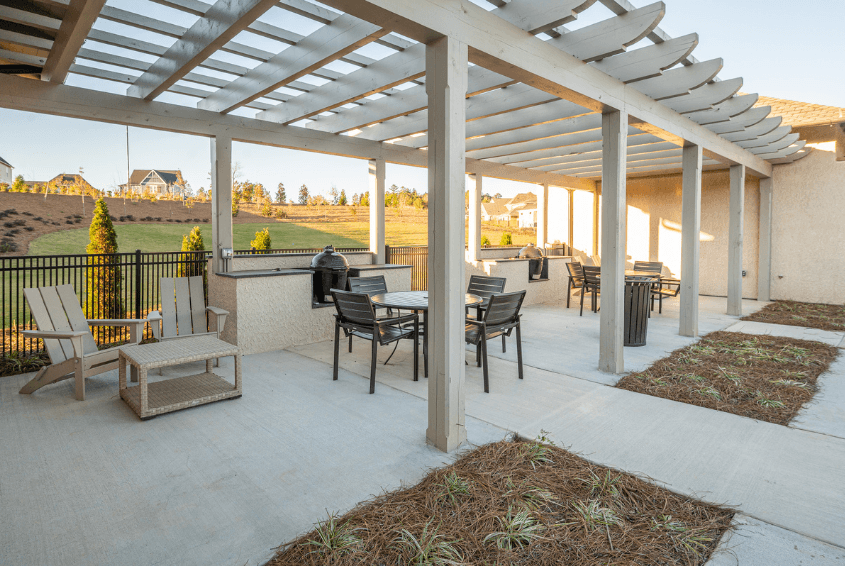 How to Decorate Your Outdoor Patio
Summertime is here, and it is time to get outside! What better way is there to spend more time outside than having the patio of your dreams? With our help, we will get your patio looking stylish and up-to-date with all of today's trending looks. We have the perfect guide with all of the tips and tricks to get these stunning summer looks as simple and easy as possible. Let's get started!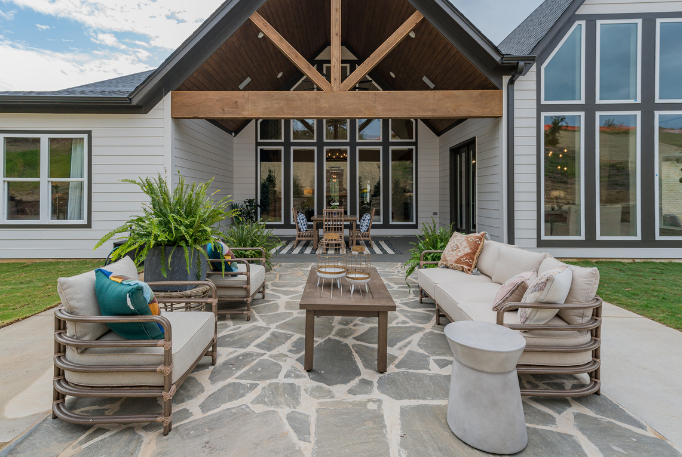 Tips for Upgrading Your Patio Style
Bring your indoor style out!
Carry out your interior design and aesthetic to your outdoor patio space. This will give your home a smoother transition from the inside out and the overall flow of your space will feel more natural. This can be done through accents such as throw pillows and rugs or your furniture's materials and finishes.
Elevate your area.
Accessories on your patio can help your outdoor space feel like a true extension of your interior! You can elevate your space by adding things like string lights, wall sconces, tall greenery, and even elements like televisions and speakers to add a level of entertainment.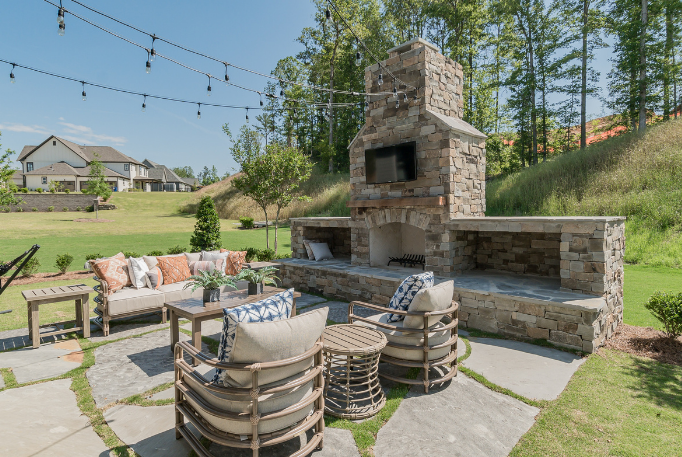 Find pieces that look built for your space.
These pieces can range from sectionals to accent chairs. Depending on the size and shape of your area you would like to furnish, highlight your space with pieces that fit the area like a glove. Doing so will help define your space and be aesthetically pleasing.
Quality is key.
While there are usually cheaper alternatives for patio furniture, it is very much worth it to spend a few extra dollars on nicer, higher-quality pieces when it comes to outdoor furniture. These pieces will be built better for enduring the stains of outdoor weather including heat, rain, wind, and sunlight. Taking a more durable route is going to be the best bang for your buck over time.
Utilize your space accordingly.
Keep in mind what activities you plan to spend in this area to maximize the use of your patio. For those who entertain or frequently have friends and family over, a large dining table or seating area would be most beneficial. Just looking to use the space for some morning coffee and sunrises? Then a patio swing or accent chair and coffee table or accent table is the way to go.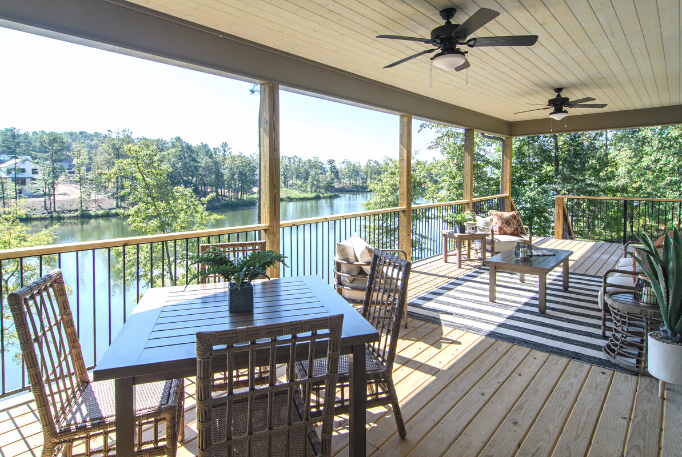 2022 Outdoor Patio Trends
Colorful Accents
We all love a beautiful monochromatic color scheme although adding a pop of color could never hurt! In fact, have you heard traditional style is coming back with a brand new look? It's called grand millennial decor and it's a modern twist on traditional decor with a large emphasis on mixing patterns and colors. Our tip: keep all of your favorite items making up your monochromatic look, but add in some vibrant accents to brighten your outdoor space. This can be done through accent pillows, rugs, candles, pottery, and greenery if you like a more natural pop of color.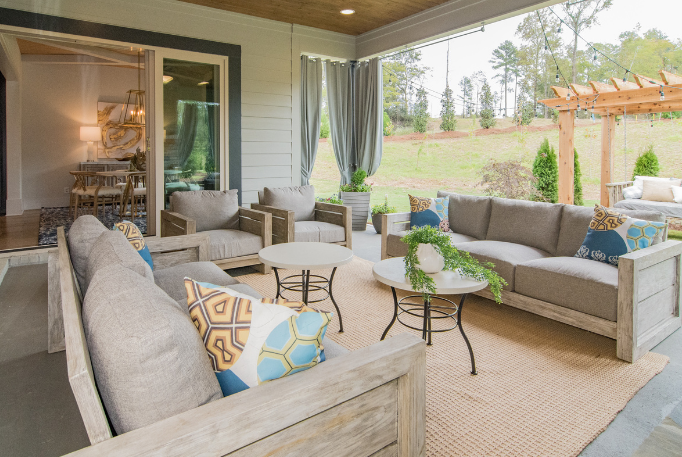 Outdoor Fireplace Ideas
Who doesn't love an outdoor fireplace? This feature is a client favorite. We offer many options for outdoor fireplaces to be built in our new construction homes in Birmingham and Nashville. We are specifically seeing gas-powered fireplaces trending since they make the process far easier than starting one from scratch. These are great centerpieces and focal points for gathering with friends and family at home.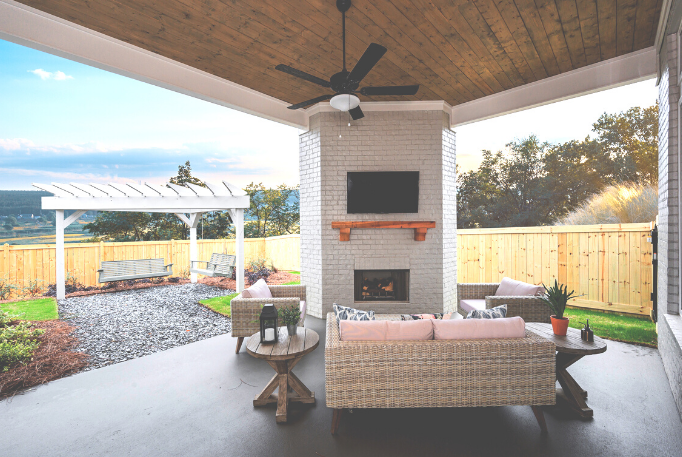 Professional Landscaping
Similar to high-quality materials, professional landscaping is also something so worth the money! Many people have found out the secret to taking patio spaces to the next level and this is it. Professional landscapers are incredible when it comes to highlighting your space's features. A little can go a long way with landscaping and it is not going anywhere!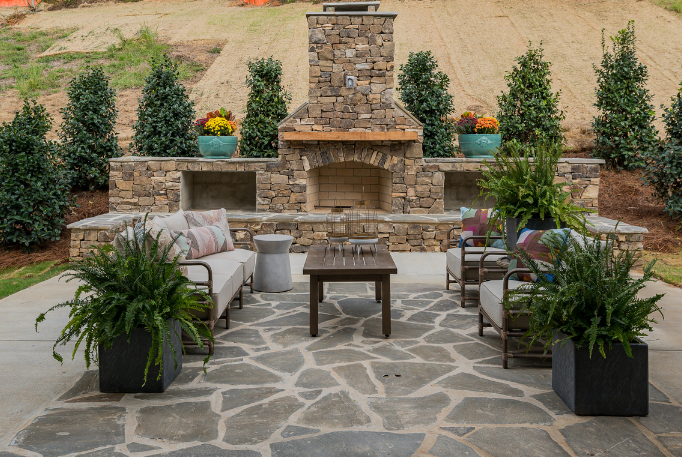 Vintage Meets Trendy
One of the most popular trends we are seeing is combining old and new! This is such a fun way to include some of those older vintage items you love but to keep your space up-to-date with modern additions as well. The perfect mix of vintage and trendy can be hard to achieve, but with our help, you will be on the right track!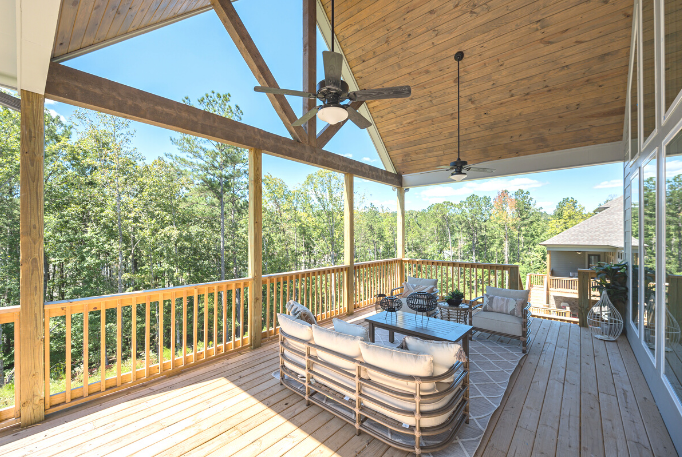 Theme Ideas for Outdoor Patio Decor
Botanical Garden Patio
Do you consider yourself one with nature? A botanical-inspired look might be the one for you. A botanical patio embraces nature and consists of neutral colors with vibrant accents. A lot of floral patterns and ceramics really add to this aesthetic.
Coastal Inspired Patio
We all know and love the coastal home decor look! Not sure how to achieve it though? Well here you go… include whites and neutral color schemes, organic materials, pale woods, ocean-inspired sea glass, wicker furniture, and greenery. The coastal home decor style should feel light and breezy in your outdoor space.
Modern Retro Patio
These retro looks are being used everywhere today and we are obsessed with them! This style is a 70s-inspired look that is a great opportunity to mix some of those vintage items with new contemporary ones. You will see a lot of metal, mesh, woven rattan, and bright colors with this style that give a retro feel with a modern design.
Relaxed West Coast Patio
Are you a more approachable and casual personality? This style is just what you need. Master this style by using muted tones and textures, organic materials, and "lived-in" fabrics for an effortless California-inspired look. This way you can be very design-forward, yet also relaxed. 
Sonoma Inspired Patio
Speaking of Cali… bring the vineyards to your own backyard. Want to achieve a patio design reminiscent of wine country? We recommend a mix of warm woods, iron accents, rustic mosaics, pergolas, and florals. Adding these elements will set you up for success in achieving this patio style.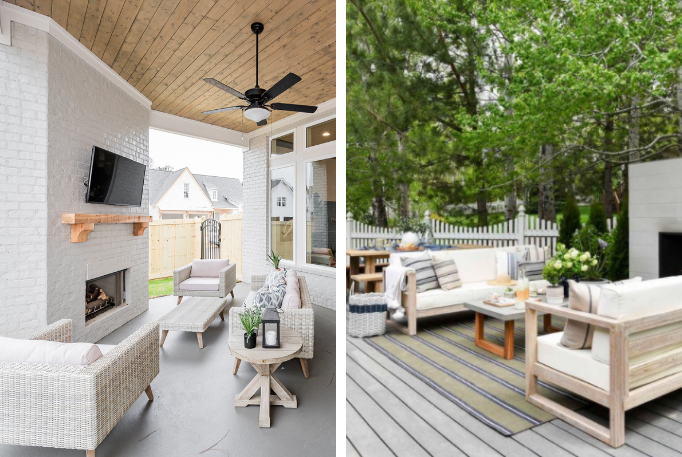 Need more help imagining what exactly to include in your patio setup? Turn to our social platforms for even more inspiration! You can find us on Instagram, Facebook, Pinterest, Youtube, and TikTok! Let us be your guide and share with us your patio look!
Search us @signaturehomescommunity
Explore Our Communities