April 18, 2022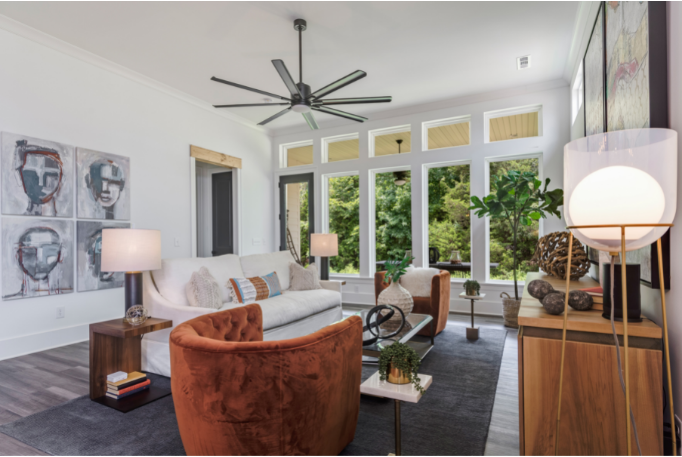 Can you think of the last time you stood in a space with a breathtaking view? We can bet your eyes immediately went to the windows without stopping. That effect was intentional by design.
There are so many reasons to love open concept living! Homes with this specific layout have fewer walls which allow homeowners to have more space to move around and allows sightlines to stay streamlined.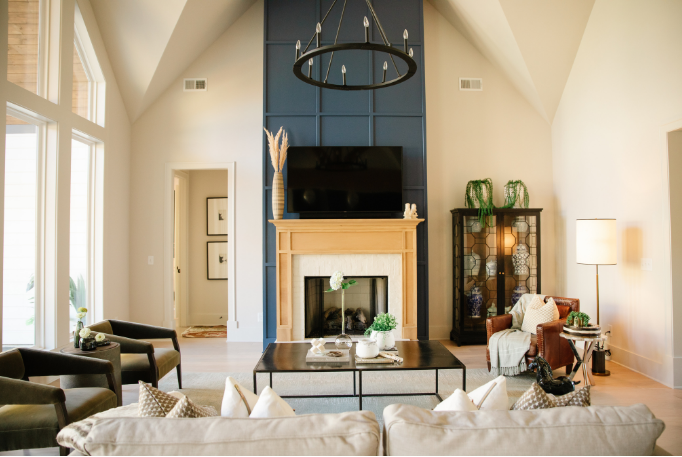 The Open Concept Home: Modern Living Made Easy
Open concept floor plans are popular because they allow eyes and feet to move freely between areas which makes watching little ones easier and also optimizes entertainment for large groups.
Our homes are constructed to give you the best visual experience from the moment you walk in the front door. However, open concept living rooms can be a little tricky to furnish so today we're dishing all our best tips for furniture layouts, and design do's and don'ts for open concept living.
Like what you see? You can shop our model homes by room instantly online!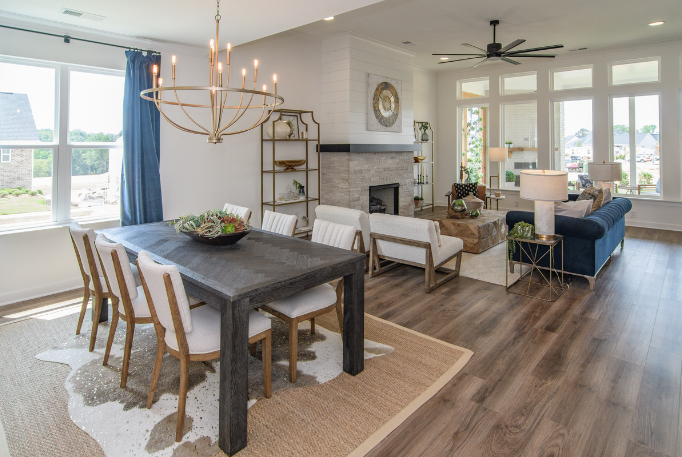 Open Concept Living Room Furniture Ideas
Open concept floor plans are the perfect solution for homeowners that are looking to increase the feel of the home's footprint but don't necessarily want to pay for extra square footage. Open concept living rooms that open up into the kitchen and dining area, have the ability to more than double the size of your living and entertaining space!
This layout creates an inviting atmosphere and eases movement between spaces, but it can also present a few decorating challenges. Learn how to decorate and furnish an open concept living area using our tips in today's post. 
Read on to discover how to decorate different areas, define zones, and determine a distinct style within open spaces to make them all flow as one.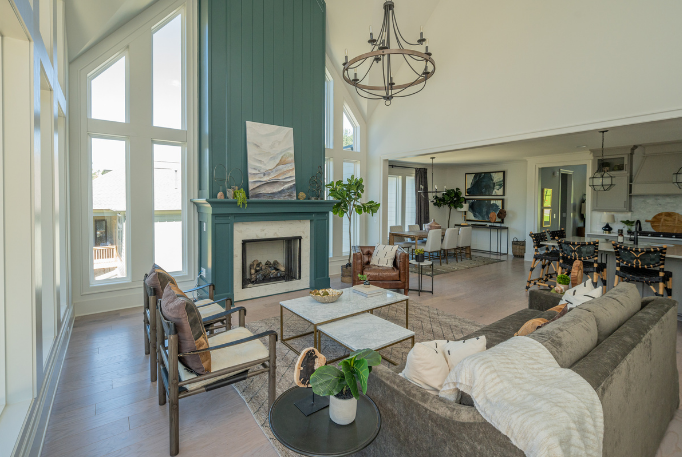 How to Decorate Open Concept Living Room
To make open floor plans work, each area of your home should carry one or more style elements over into the next room. During our design process, your personal design consultant will help you hand-pick all the fixtures and finishes for your new build, so after this stage of the home building process, you have likely already determined an overall design aesthetic for your home. While our building team is hard at work constructing your new home, you'll have months to gather inspiration, plan, and measure for furniture. This is actually such a major perk of building new construction!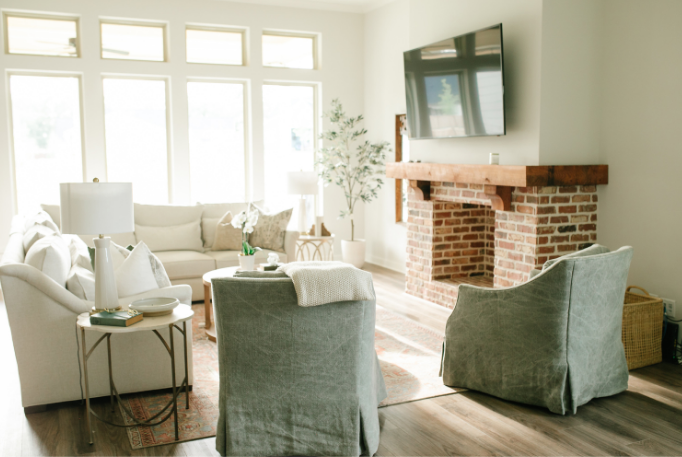 TIP: When buying a resale home, you are forced into making a quick decision about your new home's layout and design which is already pre-determined. Building a new construction home gives you the opportunity to choose your home's floor plan and also gives you exact dimensions so that you can spend time planning your decor.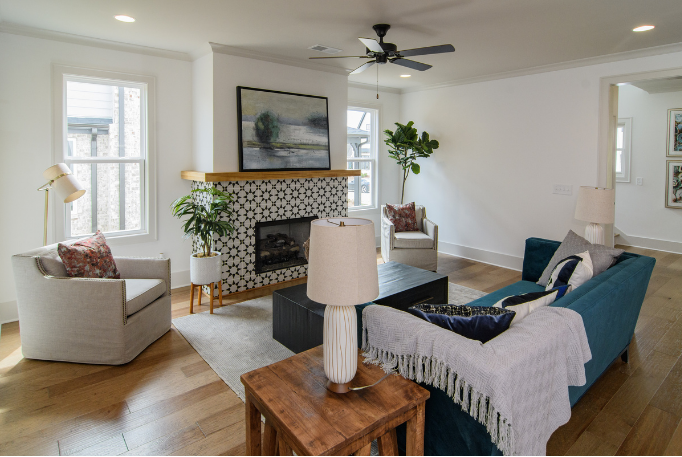 Use these tips when planning your decor for an open-concept space:
Have a neutral color palette as your base

Complimentary accents that mimic other rooms in your house. For example: pull in other colors used in your master bedroom 

Use a mix of materials and textures to add depth

Make sure you use strategic furniture placement to make the space feel full, warm, and cozy

Draw the eye up by having volume ceilings and large windows
Make sure you have rugs, and window treatments to help absorb sound. Open concept living rooms can be very noisy if you don't have any sound barriers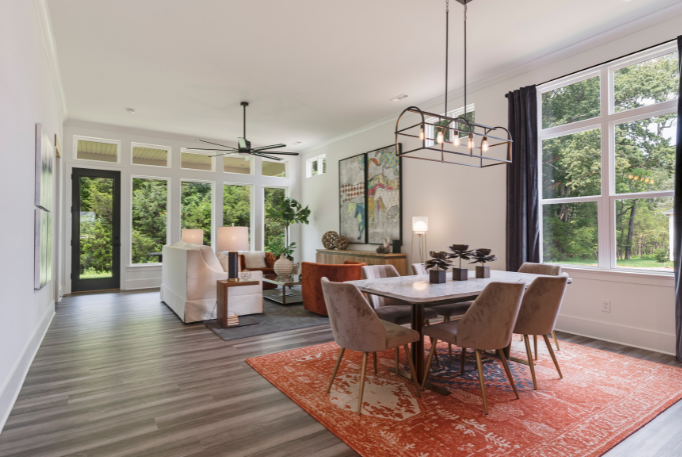 Here are some strategic furniture placement tips when furnishing an open concept living room:
Group the sofa and chairs in a close arrangement facing each other instead of out into the room

Distinguish different areas by placing rugs underneath entire seating areas

Make sure furniture is large enough to fill the space. Many times, homeowners make the mistake of small furniture which makes the space look unfinished and less homey

Have distinct focal points that help separate your spaces. Ex) eye-catching light fixtures, accent wall, large range hood, dropped ceiling, etc

Have your builder install floor outlets so floor lamps and other electronic devices can be used in the middle of the room (our designs include this feature!)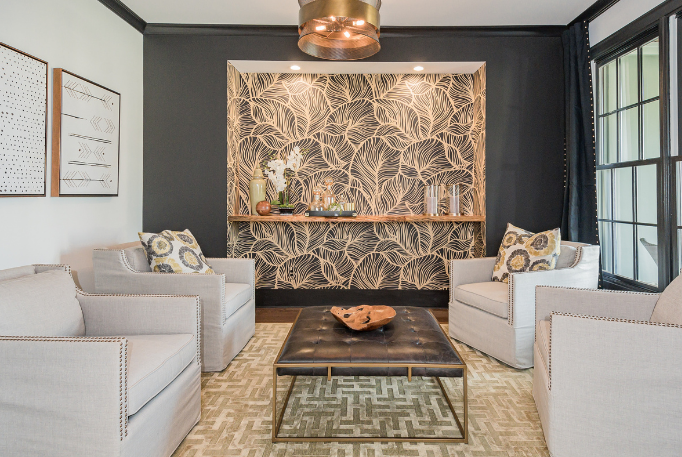 Best Furniture Arrangement for Open Concept Living Room:
Two sofas and two chairs

Two large sofas

Sectional sofa and two chairs

4 comfortable armchairs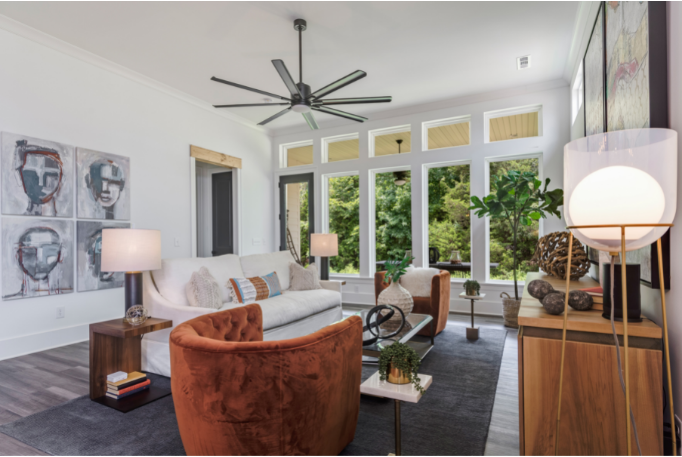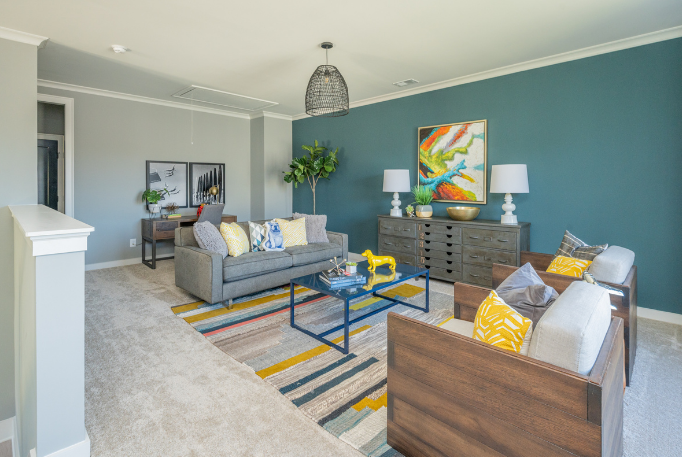 Build your open-concept home with us in Birmingham or Nashville today!
Explore Our Communities