May 3, 2021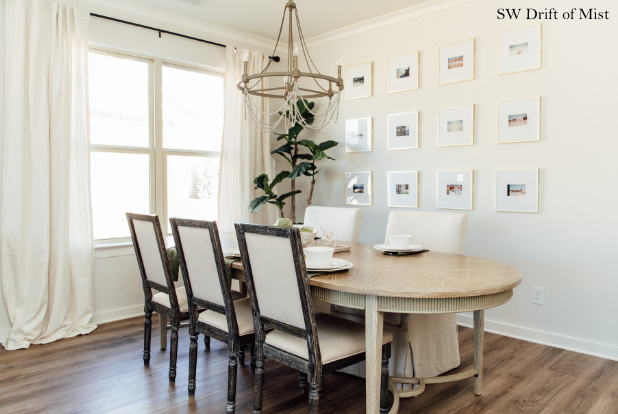 Do you find yourself drifting towards home decor that emulates the emerald coast? We can see why! Coastal home decor can bring along a feeling of tranquility to the home with its relaxed vibe and calm color palette. Today, one of our homeowners takes us inside her real home to showcase a #SignatureStyle all her own. The Southern Source is a lifestyle blogger based out of Birmingham, AL who has mixed different decorating styles to create a coastal-inspired interior that's been creating waves across the internet. Let's dive into details behind the design with the homeowner, Meredith Tolleson, in a Q & A.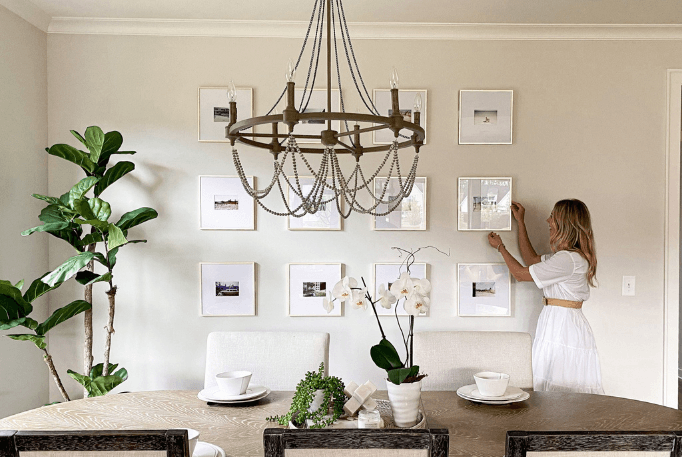 Q: What Inspires Your Home Decor Style?
A: I gather inspiration from all over! My discovery of new styles and ideas first started on the internet. I worked for a luxury furniture company, so looking at home decor images was a part of my full-time job. I studied different styles that fell within the transitional style and just started playing around and recreating high-end designer spaces on a budget.
Building our first home [with Signature] gave me the freedom to completely start from scratch and create my dream home from the inside out.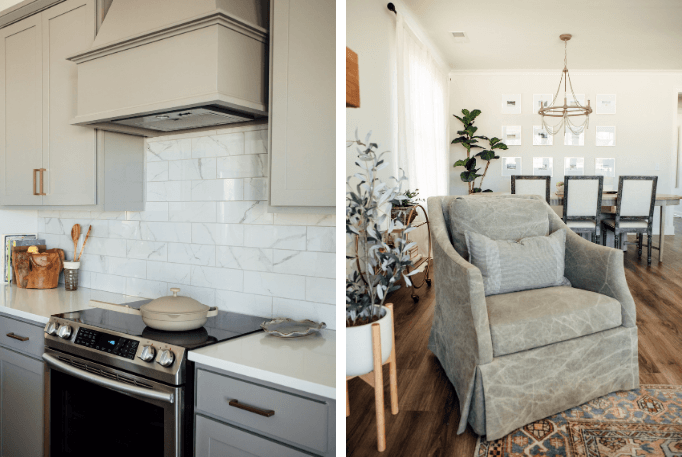 Here are a few mood boards and final design choices that Meredith landed on for her main living spaces for some coastal home decor inspiration. 
Q: Which Rooms Took You the Longest Time to Design?
A: The kitchen is one of the most important rooms in a house and I think a close second would be the living area. These two rooms are where you and your guests will spend most of your time, so I think it's only natural that your thoughts, time, and money go towards the kitchen and living room first when designing a home.
Q: Can You Offer Any Advice on Where You Decided to Splurge vs. Save?
A: In terms of our building budget, there was a number we were comfortable with which meant we couldn't do EVERYTHING that Signature offered, but it was nice to have those options. There are a few things I would say are non-negotiables when it comes to adding features. We went for additions that would give us the biggest "wow factor" and the highest return on investment. Elements we made sure to include in our design were:
Volume ceilings in the living room, outdoor, and master bedroom
Window Wall
Enlarged Island
Fireplace
Patio extension
Southern Source Side Note: I often get asked if there are any design elements I wish I would have included in our build, and the answer is yes. My Signature Homes agent, Jaye, told me I may regret not tiling the guest bathroom (downstairs) and he was right! He got to know me so well, and knew it was something that I would want down the road! We went with the included tub option, and I wish we would have added the white subway tile. I love baths and use that bathroom every day, so it would have been worth the small upgrade.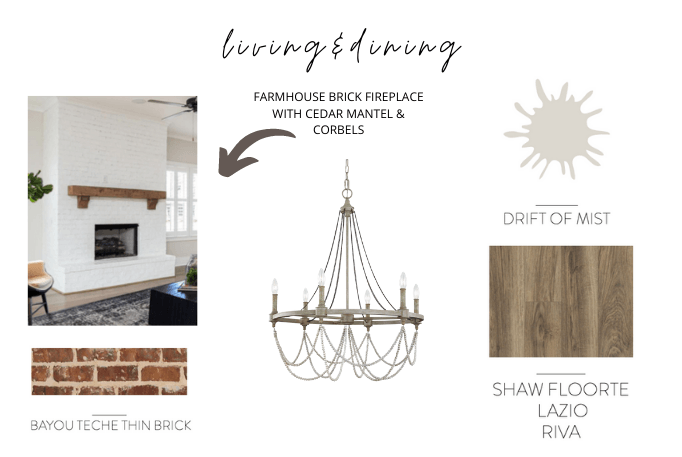 Q: How Would You Describe Your Home Decor Style?
A: I describe my home decor aesthetic as Transitional with California Farmhouse Flair. To me, this translates to a well-balanced mix of traditional decor, with a heavy emphasis on accessorizing with relaxed coastal elements that you'd find out West.
Here are several textures, materials, and color palettes that she includes in her contemporary home design.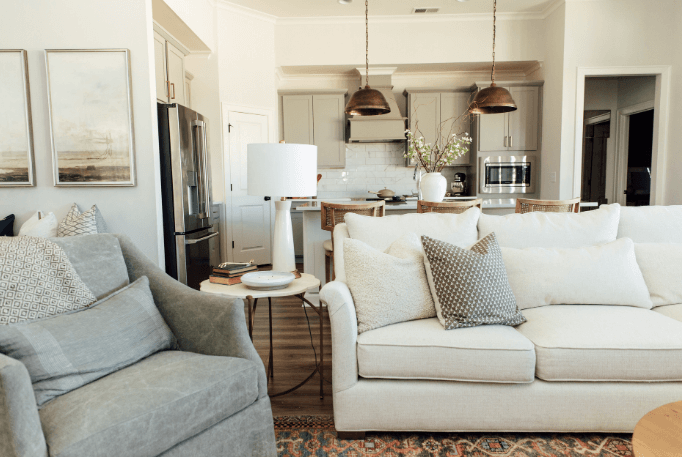 Coastal Home Decor Elements 
Cane Weave

Sea Glass

Linens

Shades of white

Hues of Blue

Antiqued and aged wood

Greenery and soft botanicals

Terracotta textures

Light wood tones

Rattan

Wood beaded accents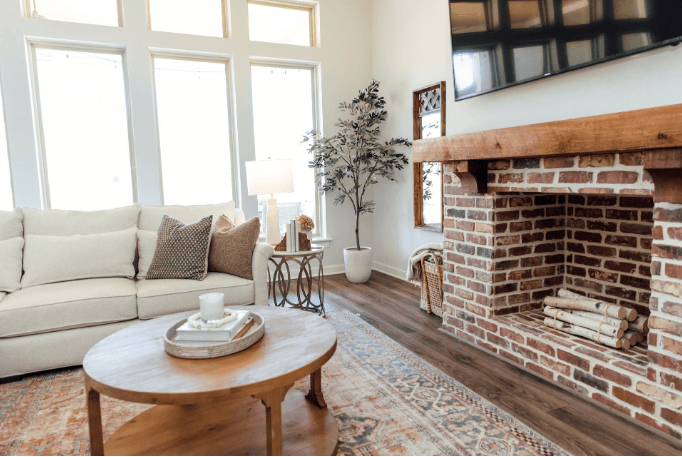 Q: Where Do You Shop for Your Home Decor Finds?
A: I shop all over! To be the best resource for my readers, I primarily shop online from retailers that everyone has access to. My home decor blog aims to give people the tools and confidence to execute their home decor ideas in real life. My goal is to create a high-end look on a budget which is why you'll find me shopping at places like Target, Walmart, Home Depot, Overstock, Wayfair, and other similar affordable home decor retailers. Finding a designer look-for-less is such a thrill to me!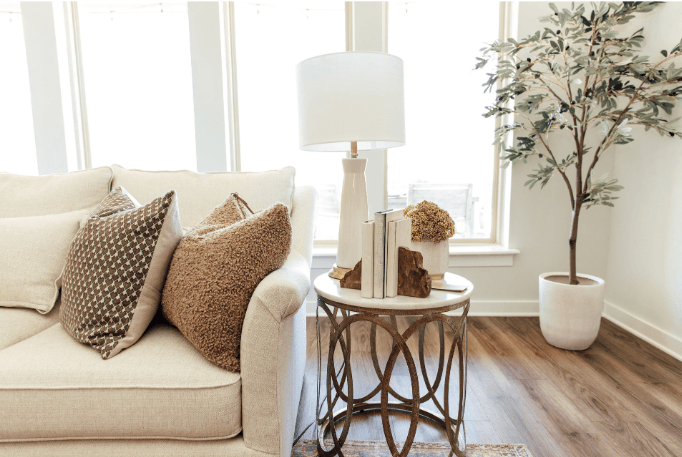 Find more home decor inspiration from Meredith on her blog, thesouthernsource.com, and daily affordable finds on her Instagram, @thesouthernsource
Explore Our Communities