You've heard it from us, so now we are sharing what our Signature Homes Build Process looks like from your perspective. This blog will progress as one of our Bradbury at Blackridge homeowners completes each step of the home building process in real time! Follow along as Anna shares her story with you on her home buying journey from start to finish!
Over to you Anna!
Introducing Anna & Signature Homes
I'm Anna and I run the remote virtual interior design company, Homzie Designs. Working from home during the pandemic I became increasingly dissatisfied with my current space, didn't we all? I started daydreaming about cooking in a kitchen with a huge island, space for entertaining friends and family, a walkable community, and of course a dedicated home office. 
In October 2022, our company did a photo shoot inside a home in the Lake Wilburn Signature Homes neighborhood. I was blown away. The interior was gorgeous and the neighborhood felt like a community. I started my new home search that day. While I briefly contemplated doing a large-scale renovation of my current home, I knew my patience couldn't handle it! My realtor understood my need for a high-end aesthetic as an interior designer, but I was also resistant to going all-in on a fully custom build at this stage in my life. Working with a semi-custom home builder seemed like the best route.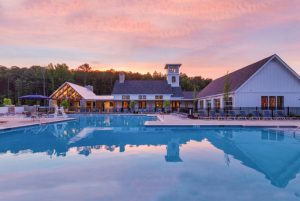 My brother suggested I visit the Signature Homes Blackridge community. I have lived in Hoover my whole life and had no idea something this beautiful existed. From the moment I drove over the hill and saw the sunset over the lake I was hooked. I saw the sign for the new Bradbury community coming soon and the renderings for the incredible amenities center they were planning, and I contacted my realtor and had an appointment at the Model Home with Nikki the next day. 
Picking Our Home!
Two days before Thanksgiving, I was with my family pouring over the various home plans and weighing out the pros and cons of each layout. The online renderings and walk-throughs were so helpful in this process, really allowing me to think about how I might live in these spaces. To my own surprise, I went back and forth quite a bit! Finally, I landed on the Rigby 1B. There was only one problem, the house directly across from mine also chose the same plan – great minds think alike – but it meant we couldn't have matching exteriors. Here is what I've already come to love about Signature, they care deeply about their residents and are extremely hands-on in the process. Nikki, my Signature Homes representative, began talking with the team of architects on my behalf and found out they were currently in the development of a third exterior option for the popular Rigby home plan. This meant I could have the home plan I've come to love and the team was developing a brand new exterior option I would be the first to have. Can I just say how obsessed I am with my Rigby 1D exterior? We affectionately refer to it as "The Anna plan". We couldn't have been more excited to kick off 2023 with a signed contract and to get started building!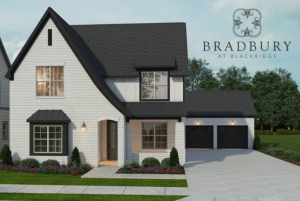 My Favorite- Meeting with Our Designer
While the new exterior drawings for the Rigby 1D were being finalized, I was moving forward with the design process with Signature's designer Lauren. As an interior designer myself, I was really worried I wouldn't be able to create the high-end custom look I wanted with the available selections, but I was wrong. I poured over the design book and visited the design center to actually see my selections, and within about two days had all of the finishes picked out, never feeling like I compromised my design aesthetic and wants, which is a credit to their own understanding of what's trending in the housing market!
–
At my actual design meeting with Lauren, she knew my home would be a showpiece and was committed to getting the details right from the beginning. Knowing how important great lighting was, we put in extra LED lighting, added plugs for extra functionality, and even added extra support in the fireplace should I decide to come back one day and add stone. Her support of my "vision" made this part of the process so much fun!
–
Getting the Lay of the Land
The last step before pouring the foundation was the lot walk. Both my builder and designer joined me at my lot to walk to discuss the unique aspects surrounding the plot of land that would become my home. We found opportunities to add extra concrete and make the driveway bigger and talked through how they would landscape certain areas to prevent any water runoff issues. All of the details and intentionality that have gone into my home build-up until this point have made the process so enjoyable. This is truly homebuilding in easy mode!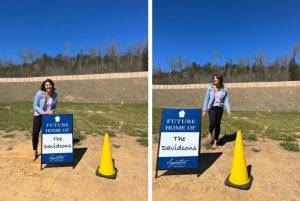 Building A Foundation
I've made it my Sunday ritual to drive out to Bradbury to try and take a peek at the week's progress. My excitement jumps every time I turn onto my street.  What the building team can get done in 7 days is unbelievable. The first exciting sight was seeing my lot graded, then the outline for the foundation pour. Then as quickly as it started, the foundation was poured and I was walking the footprint of my soon-to-be house. What was just an empty lot on a map a short while ago is now the site of my future home. After a few weeks of the foundation curing I received a note from my designer that my frame drop was expected on a Wednesday.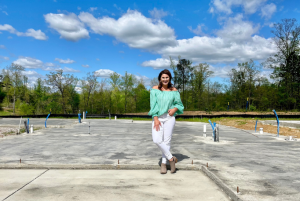 Framing A Special Moment
I was anticipating my weekly visit would be met with the welcomed sight of a stack of lumber ready to be installed. Instead, my jaw hit the floor when I saw a completely framed-up two-story house! I'm not sure what other builders do, but I fully expected the lumber to sit there for at least a week before anything happened. Signature's process is so tight and efficient that it catches me off guard, and I love it. 
Elated with the progress so far, I was surprised to receive a small package from Signature in the mail with two jumbo Sharpies and the directive to "make your mark" and "make it yours". This small gesture showed me, Signature "gets it". They understand that the home-building process isn't just a transactional one, but an emotional one. It's not just about brick and drywall, but it's about people turning a house into their home.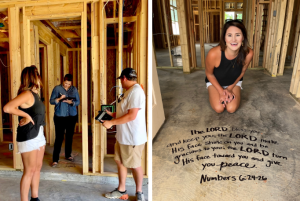 You don't have to hand me a permanent marker and ask me twice. The very next Sunday I went room by room and "made my mark" writing my favorite Bible verses onto the floor and wooden frame. This was such a special time for me to get to pray over each room in my future home and write a blessing for how I hope each space is used to serve and love others. It's small moments like this that I will look back on after the build is over and know that it was all worth it. 
A few days later I received a call from my designer Lauren telling me it was already time for our frame review. My builder Tyler, designer Lauren, and I met at my home and methodically walked room-by-room going over every detail from door swings to light switches and plugs making sure every detail was exactly how I wanted it. If anything needed to be changed, or outlets added, this was the opportunity. 
The overwhelming feeling I got during my frame review was how everyone – my designer, builder, and I were all on the same page, the same team working toward the same goal of making this home perfect for me. Since our design meeting, my designer Lauren understood my need as an interior designer myself for this home to function like a showpiece. As we walked through the frame review room by room we made small adjustments to move a few light fixtures and add a few extra outlets to ensure my full "vision" for this home could become a reality.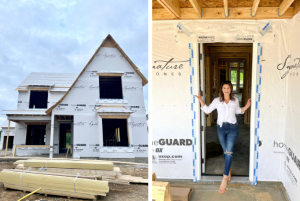 Bringing My Vision to Life
My Sales Agent got to me before my weekly Sunday visit and sent me a photo saying "You have brick!" Again, my mind is blown by the speed, efficiency, and precision of the Signature Home build process. While I haven't personally worked with other home builders, my virtual interior design clients have, and this speed is far from their experiences! I feel like I'm being spoiled. 
Tapping on her picture I again expected just the brick drop, stacked up in the front ready to go. Instead, I saw almost a fully bricked-up house! The board and batten siding detail was already installed and had even been painted along with most of the trim. All of this, from the initial frame drop to plumbing and a/c rough-in to painting and brick, has happened in less than a month! 
At this point, my Sunday evening visits have become a "can't miss event" and I'm dragging every family member, friend, and even my dog with me to see the weekly progress. Now, with the framing up, I'm able to experience what I've been trying to mentally picture in my head. I walk room by room and am seeing the outline of every small detail and thoughtful decision come to life. Seeing the window wall at the back of the house and the way the light pours through. The patio extension with the little extra piece of concrete we added for a grill. The sophistication and drama that eight-foot doors and 11' volume ceiling brings! Every detail that I made in the design studio is being shaped before my eyes.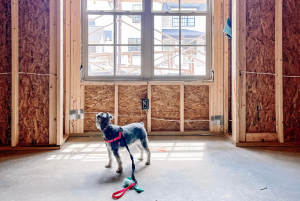 Setting Standards
There is so much intention behind every detail of this build, and the Signature Homes team takes whatever the acceptable 'standard" practice is and goes above and beyond. I saw this during my frame review as my builder Tyler showed me details like the rebar that was put into my foundation and how it was above and beyond what the city required. I also learned there is a team of people from Signature who go through these in-progress homes and look for opportunities to make improvements for future homes. It would be easy to say "good is good enough" but I'm quickly learning that is not how things are done around here, and I am reaping the benefits in spades. 
Now that I've signed off on my frame review things really get exciting and start to move inside with drywall and cabinetry next to be installed. I'm heading out on vacation for a few weeks and I cannot wait to see what awaits me when I return. 
*NEW! Read Below.
Preping for Move In!
These last few months I've been busy putting my current home on the market and getting ready to move into my new home in Bradbury. It's all come together so fast! On my weekly visits, I watched the details come together. I've seen concrete for the driveway poured, the landscape goes in, countertops and backsplash laid, appliances put in, and the lights go up and come on. It's hard to believe this was an empty lot just a few short months ago because now it is almost my home. 
I won't forget the day I got a text from Nikki, my Signature Sales Agent, and she told me we had a closing date set, and it was even sooner than I thought. As a type A personality, I love how Signature helps set my expectations and then over-delivers. With that, we had the orientation walk-through and closing on the books for just a few short weeks away. Now it was my turn to buckle down, get my current house sold, pack up and move out so I can start calling Bradbury my new home.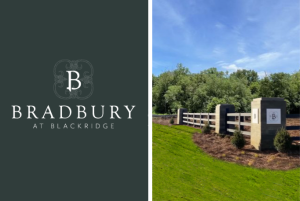 I don't know why I'm surprised at this point, but I don't think I was expecting the week before closing at my orientation walk-through to be such an organized well-oiled machine. From the moment I drove up into my new driveway a team of people was waiting to meet with me and give me the low-down on all things my new home. 
First, I met with the home warranty representative who gave me a breakdown of the 1-year, 2-year, and 10-year warranty coverage for my home. I love how Signature comes out 30 days after you move to do paint touch-ups for anything that gets messed up during the move. They also come back out after the first year to do any other cosmetic fixes as the house starts to settle – nail pops, caulking, grout repair, etc. I really appreciate how accessible the warranty team appears to be and that Signature has a whole team devoted to handling any issues that arise.
We know the devil is in the details, and I think one of the things that Signature gets so right in the home build process is the details. At orientation, I was presented with basically a home warranty manual that not only covered the various coverage and contact information but was filled with photos and step-by-step instructions on how to locate, operate and maintain all of the major features of my house. It listed common issues and how to fix them and even provided instructions on which cleaning products were most ideal for the materials in my new home. This was such a gift! As someone who has had tons of home issues in the past, having a reference guide neatly put together with everything I need inside has given me tremendous peace of mind.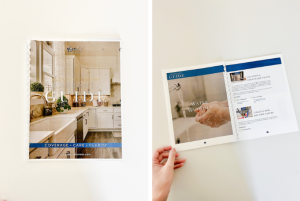 The Finishing Touches
Next up was the PDI (Pre-Delivery Inspection) , where a Quality Assurance team member went through all of the details in my home, where the water shut-offs were located, how to run the irrigation system, and various nuances and features. I was worried I would not be able to remember everything, but ALL of that information is in that home manual. I was able to just pay attention in the moment to what he was showing me. Next, we walked through the house room by room to "blue tape" anything that needed to be fixed or addressed in the week leading up to closing. Getting to make note of any issues was comforting as there were a few small things I wanted to make sure were addressed before moving in. 
Finally, the home security representative with Chorus came in and we talked about what I needed and wanted in a security system. I love how the video doorbell comes standard now on these homes, that gives me such peace of mind. All in all, it was a packed morning that covered a lot of ground very quickly. 
I was worried my list of fixes & punch list items wouldn't be able to be completed in just one week, but they were on it. On the morning of closing, we had a final walkthrough where they walked me through the entire punch list of items that we'd listed to be addressed and showed that they were. We also found a few more little paint spots that had gotten nicked as they were making fixes and they had a painter there that morning making fixes as I was doing the final walkthrough. It was fun to walk in and see on the kitchen island in my beautiful new home all of my keys, garage door openers, and a brand new tool kit from Signature sitting there on the counter. What a great welcome-home gift! From there, I went straight to the closing table and within about 15 minutes was calling Bradbury my new home – cue the moving trucks!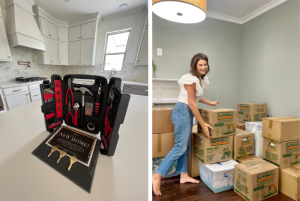 ***TO BE CONTINUED***
Stay tuned as Anna continues her home building journey & updates us on her story.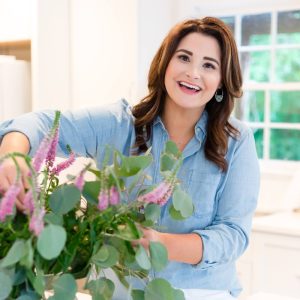 Special Edition
Guest Writer:
Bradbury Homeowner
Anna Davidson
Still to come…
Move In
Exploring the Community
Explore Our Communities