March 2, 2022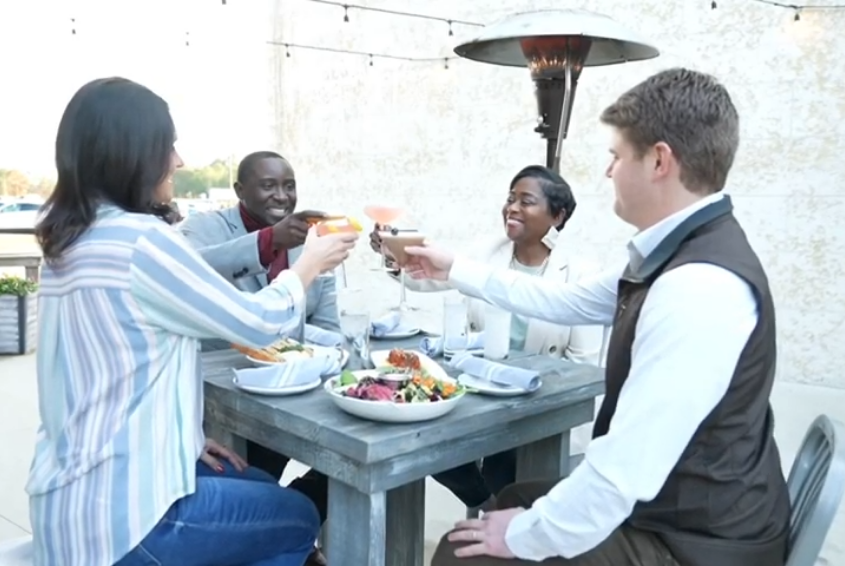 Welcome to Hoover, AL! 
This friendly suburban area started as the classic "build it and they will come" scenario in the 1980s. What began with big office parks, malls, and interstate interchanges has now flourished into a little big town of friendly faces, tight-knit communities, and "Friday Night Lights" that definitely live up to the hype! 
The City of Hoover now has a population of over 92,600 people (according to the 2020 US Census) and Signature Homes is proud to have over 3,747 of those people living in one of the thousands of homes we've built in this area.
We asked our CEO Dwight Sandlin why he and Jonathan Belcher (President of Signature Homes) chose to build out their best ideas right here in Hoover?
Why Hoover?
"Simply put, we came here in the early 2000s because of the great schools. We know our customers value good education so we always look to create communities in thriving school systems where new housing is needed."
"The administration of Hoover has always proved to make good sound decisions when it comes to their citizens while making logical business decisions that create value for everyone." – Dwight Sandlin

Best Place to Live in Alabama
Hoover has continued to grow in population parks, sidewalks, events, which continues to create a great lifestyle for its residents. In fact, Hoover, AL became nationally recognized in 2021 as the Best Place to live in Alabama. According to the 2021 rankings by 24/7 Wall St. 
One of the more well-known neighborhoods in Hoover, AL is Ross Bridge. 
In 2005 we founded the Ross Bridge community model which put the emphasis on a customer-centric community first goal. Here,  we created homes of homogeneity but not redundancy and gave a resort-style lifestyle for our homeowners; Making every day at home feel like a vacation.
Signature Homes resort-style communities can be found in many special places within the Hoover, AL area.
If you are currently looking to build a home in the Hoover area, then you'll want to check out our current new home communities in Hoover, AL:
In the past five years, one area of Hoover, in particular, has really hit its stride in terms of growth. The western side of Hoover has quick access to I-459 and I-65 which makes it a very convenient place to live for Birmingham and Tuscaloosa commuters, as well as homeowners who love the downtown scene. In just a few minutes you can hop on the interstate and make your move to surrounding cities like Homewood, Mountain Brook, Vestavia, Avondale, and beyond. 
However, the vast development of West Hoover is making it hard for homeowners to want to leave this side of town. All within a few minutes of their front door, our homeowners in Hoover have everything they need from shopping to dining to doctors' offices, schools, and more!
Today, we're giving you an amazing list of things to do and see in Hoover, AL. Read on to discover all the restaurants, shops, and businesses you can find in the Hoover (West) area.
Local Restaurants and Shops in Hoover, AL
Here are some great places to eat and shop in the Hoover West area, the majority of these are locally owned!
Shops
Wrapsody

Trak Shak

Dear Prudence

South Boutique

Hoover Shipping

Turquoise
Restaurants
Tre Luna Bar & Kitchen

Taco Mama

Melt

Edgar's Bakery

Big Whiskey

Walk-Ons

Cajun Roux

Casual Pint

Beef O'Bradys

Farelley's

O Sushi

Frontera Mexican Grill

La Brisa

Whiskey Tango Foxtrot

Taproot Cafe

Cajun Steamer

Saw's BBQ

Tortuga's

Vecchia 

Moss Rock Tacos

Hometown Fare

The Clubhouse at Ross Bridge

Brock's at Ross Bridge

The Front Porch at Ross Bridge

Ashley Mac's

City Bowls

SuperChix

Moe's BBQ

Santos Coffee

O'Henrys Coffee

Bluff Park Diner

Clean Eatz

Freddy's Burgers

Culver's 

J. Alexanders

Firebirds

Chipotle

Chick-fil-A

On Tap Sports Cafe

Sunshine Nutrition

Hoover Food Thai Mart

Eugene's Hot Chicken

Silver Coin

Mr. P's Deli

The Electric

Jubilee Joe's 

The Whole Scoop

The Pointe Dance Arts
Misc. Businesses
Nail Boutique

Touch and Flow Nail Spa

OS1 Sports Injury Clinic

Diamond Smiles

Brocks Gap Dentistry

Medical West Hoover

Aldi

Birch Tree Day Spa

Brock's Gap Brewing
Other Notable Destinations in Hoover, AL
The Hoover Met

Explore Playground and Splash Pad

Aldridge Gardens

Ross Bridge Historical Park

Moss Rock Preserve

StarDome Comedy Club

Dave & Busters

Riverchase Galleria

Patton Creek 

Ross Bridge Resort & Spa

Hoover Country Club

Riverchase Country Club
As you can see there is no shortage of things to do in Hoover, AL. This city continues to grow and attract amazing businesses for the residents here to enjoy. Imagine having all of these restaurants, shops, schools, and more just minutes from your front door.
Start exploring our new homes for sale in Hoover today! If building a new home in Hoover, AL is on your list for the future, go ahead and sign up for our email list here and you'll be the first notified when new communities are available! 
Explore Our Communities