July 20, 2022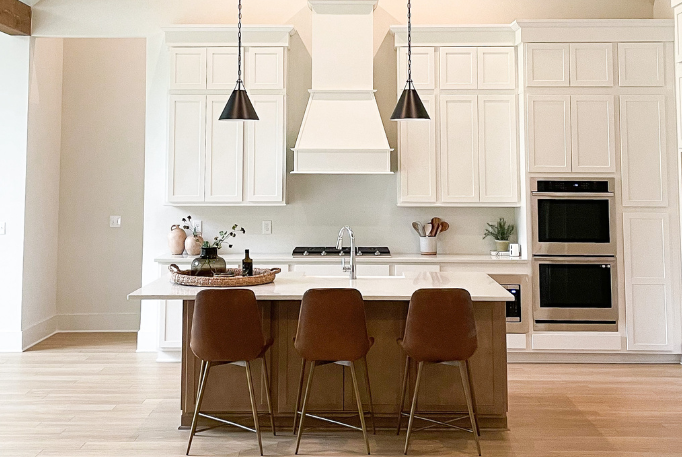 Discovering your home style is not as easy as you think. For some, it comes naturally and for others, they may face trial and error until they finally find the look that feels like home. Transitional styling is the perfect go-to look if you find that no particular style speaks to you. It is a crowd-pleasing style that combines traditional and modern elements to create a timeless look that can easily be altered, tweaked, and transitioned into an ever-evolving home style!
What is Transitional Home Design?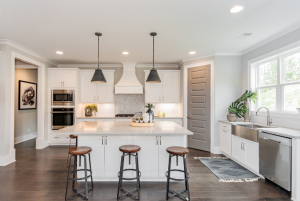 The transitional home style really took off in the 1950s. It was referred to as being "classic with a modern twist". This style exudes sophistication and class without requiring any strict guidelines to execute it appropriately. Because transitional styling is a combination of both traditional and modern styles, there are endless ways to achieve the look. When styling a transitional home you are not limited to sharp or round edges, solid or patterned fabrics, warm or cool tones, etc. Instead, the key to mastering this style is finding the perfect balance between these elements. 
Transitional Paint Colors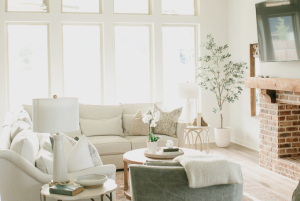 Stick to a neutral paint palette when designing a transitional home. For the most part, a transitional home will be light and airy with subtle contrasting accents. You want your home to elicit a clean and crisp aesthetic, so we suggest using lights (whites, creams, or tans) for the majority of your palette paired with dark (black, brown, or gray) accents to add dimension. For a traditional warmer look emphasize your creams, tans, and browns, and for a more modern cool tone highlight your whites, blacks, and grays. What paint colors would we suggest? Here are our Most Popular Paint Colors!
Transitional Furniture Decor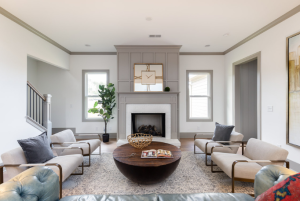 Your home decor goes a long way when it comes to achieving an overall sophisticated look. What should you look for when picking out furniture for your transitional home? Look for traditional simple silhouettes, modern material textures, symmetry and balance, and again a neutral palette and both curved and sleek straight lines. This mix will give you that classic and timeless look you are going for. Do you have a specific aesthetic in mind that you would like? Transitional home designs often lead with one larger theme in mind. For instance, your transitional style might lean greater toward a coastal feel, or your style might lean more heavily on traditional southern decor. Get inspired and shop our transitional-styled model homes via our Like To Know It page. You can now shop our model home interiors just with the click of a button!
Transitional Accent Decor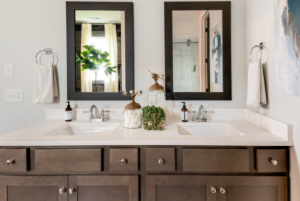 When it comes to transitional decor, less is more! Similar to your furniture, your home's accessories play a major part in achieving a sophisticated look. Transitional home styling follows a very minimal design. There is a fine line between interesting and distracting. Minimal does not mean your space should be empty, but instead just not cluttered or busy. Select simple, straightforward accessories to add to your home's decor. For instance, focus on picture frames, vases, and other decorative accessories with clean lines and solid colors. For affordable transitional accessories, we recommend checking out the Studio McGee line at Target!
Transitional Lighting

For today's transitional look, lighting tends to sway to the more modern side of transitional styling rather than traditional lighting. As a focal point of the room, you do not want a simple or plain fixture. This will not draw the eye to the room as a unique light fixture would. Unique does not necessarily mean it has to be ornate or busy, but instead just different. You can still go the minimal route but add a slight twist. If you prefer a more detailed look, there are many unique modern light fixtures that mix beautifully in a traditional-style room, which will give you that perfectly balanced transitional look. For more on lighting styles and trends, check out our 2022 Lighting  Showcase.
Transitional Home Exteriors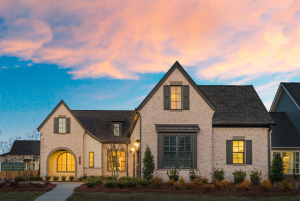 Transitional home exteriors exuberate fresh, new, and natural materials that appear simplistic and functional. For the most part, you will see many slick lines and solid contrasting neutrals. Home facings will have large areas of very minimal design elements and small areas of extremely detailed accents. To have a transitional style home, take the average modern home and add detailing or take the average traditional home and simplify it. This elegant seamless exterior design will hold its value like no other. 
Get Started Building Your Transitional Style Home
Now that you've got some inspiration you are all set to get started designing and decorating! Whether you are building new construction, moving into a new home, or just changing up your look these tips are just what you need to guide you through your design process. The best part about the transitional style is that this style will not need updating for quite some time. Throughout the years you may find some minor details becoming out of date, but those are simple adjustments to make, and the rest of your decor will remain a classic and timeless sensation!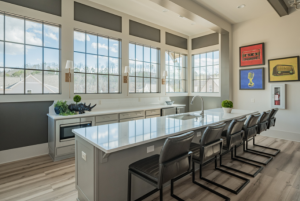 New Construction Homes in Nashville and Birmingham
Looking to take your home styling further than just decor? Design a brand new home from scratch when you build new construction. No need for updates or remodeling when you can select all of our new home features and watch it come together from the ground up! See our NOW SELLING communities and you can even get started designing today! Utilize our interactive floor plan tool or exterior and interior visualizers to see what your brand-new home could look like, then get in touch with one of our agents and make your design come to life!
Explore Our Communities