February 9, 2023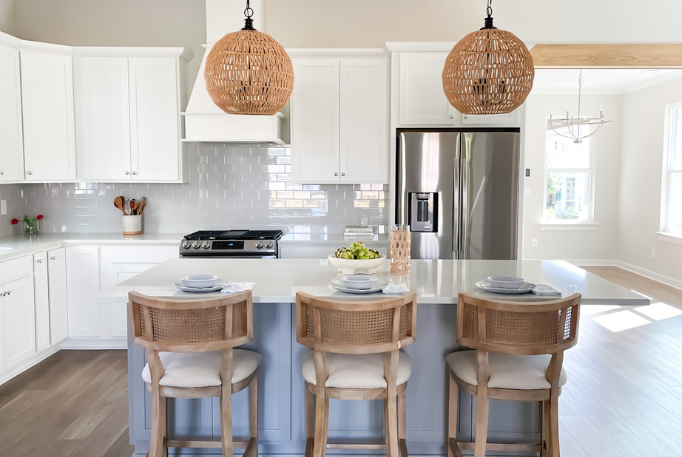 Let your (home's) light shine! Lighting in a home is arguably one of the most important non-structural elements of a house. Natural lighting throughout the home adds an intangible amount of value to the overall look and feel of the home. Believe it or not, natural light also has many health benefits! 
Next to natural light, specially installed lighting fixtures add an incredible amount of style and function to a home. When looking for light fixture ideas there are many different directions you can go in terms of size and style. Read on to discover more details about which lighting choices might be available to you as you renovate, remodel, or build.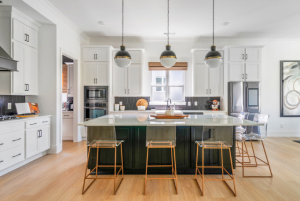 When building a home, lighting has a great impact on the overall design aesthetic of the home. You can completely change the style of your home just through some simple lighting adjustments. Not only does the light itself create an aesthetic, but how you position it can change its style as well. Lighting can also be very particular. Some lighting styles are designed for a very specific space and will not look right in another.
In today's blog post, we are breaking down all the lighting lingo you need to know when building, along with top trending light fixtures you'll find in our homes, as well as mood boards to help you hone in on your personal design style.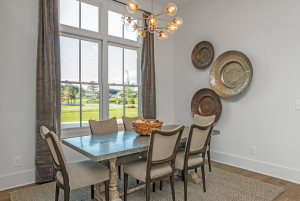 Types of Lighting Fixtures & Styles
Traditional:
Traditional lighting never goes out of style. This look is going to be more ornate, intricate, and accented with a few feminine curves. These are absolutely beautiful fixtures that will bring great attention and drama to your space.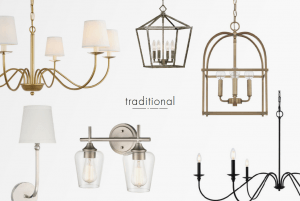 How to get this look: Think about the flow of your space. Traditional light fixtures must flow with their surrounding atmosphere. Adding a dimmer is the secret to ensuring that your light fixture will create this look!
Coastal:
Coastal-inspired light fixtures tend to be light neutral tones. They are also created from natural materials and textures that create a light and airy aesthetic. Do not be fooled by the name…coastal design can be for anyone. You do not have to live in a coastal area.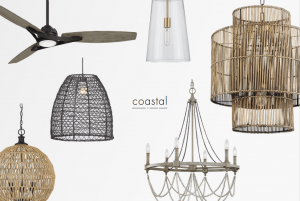 How to get this look: The easiest way to spot coastal light fixtures is to focus on materials. Look for materials such as wicker, rattan, frosted glass, sea glass, or even driftwood. These natural elements will give you just the look you are looking for!
Transitional:
Transitional-styled lighting falls right in the middle between a classic traditional look and a streamlined modern look. This is where many people fall when it comes to style selection these days. The details are more minimal, but can also steer to artistic in nature and are typically complimentary and pleasing with a large array of furniture and architectural styles.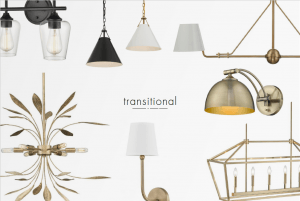 How to get this look: Identifying transitional lighting can be tough because it is so similar to traditional. The main telling factor between the two is that transitional lighting is going to appear slightly updated or more modern. Transitional lighting features everything from clean lines to feminine curves which makes it meld into many different interior design styles. Feel confident to mix and match styles when you go for a transitional home decor look. 
Retro Reinvented:
This style emulates and elevates popular shapes and materials of the years past. Updating to today's design aesthetic in fresh, new finishes, sizes, and uses. These fixtures add personality to every space they occupy.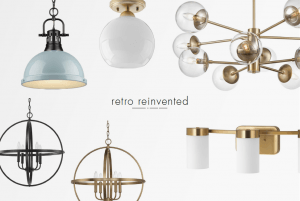 How to get this look: With this style, the less is more approach is the way to go. Choose one or two areas of your home that require a wow factor or a sparkle of personality, and these are the fixtures you are looking for to make that room more of an experience.
Refined Rustic:
This style has a freshened view of a more hard-lined industrial style. Its inspiration is deeply rooted in industrial spaces, mixing metals and bringing functionality and artistry together as one, with a lighter more elegant approach.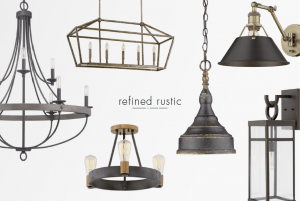 How to get this look: Be bold! Do not tread lightly on choosing statement pieces that will inspire the space with their aged finish, structural lines, and functionality. Let the light, often on display in these fixtures, shine.
Modern:
Clean lines, geometric lines, and asymmetrical shapes all steer the design of a modern fixture. These fixtures can spark a conversation or blend seamlessly into their surroundings, which makes them a fantastic opportunity to blend into any home's overall style.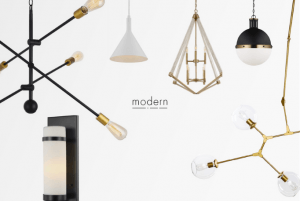 How to get this look: The juxtaposition that a modern fixture can have in a traditional or transitional space is effortless-looking, but very well planned out. To do this, think of minimal frills on the fixture to equal maximum design. These light fixtures will definitely make a statement!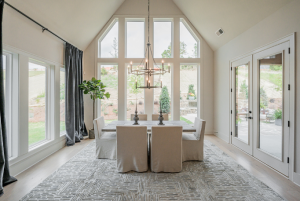 Lighting Fixture Size & Placement
Pendants: Hang beautifully above an island or in the foyer
Small Chandeliers: Stunning above an island, in a foyer 
Medium Chandeliers: Great size to hang  in a dining room, in a flex room, or in a master bedroom
Large Chandeliers: Perfect for two-story foyers or volume spaces and in a dining room
Extra Large Chandeliers: Also, perfect for two-story foyers or volume spaces and in a dining room
Linear Chandeliers:  Designed to be hung in a dining room or above an island
Semi-Flush Mounts: Gorgeous fixtures to be used in a den, bedroom, or flex room
Ceiling Fans: No better place to be used than in a bedroom or living room
Vanity Lights: Beautiful fixtures for the bathroom
Sconces: A decorative option to place on the sides of the bathroom mirrors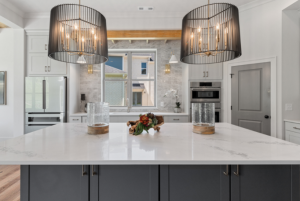 What are Lighting Trends for 2023?
Finishes: Gold and brass finishes have been all the rage lately, and we do not see this trend dying down anytime soon
Size: Bigger is better! Some even prefer slightly oversized! With lighting becoming such a major part of home design, many people want their lighting to be the main focal point.
Style: Lighting styles range from home to home. Depending on the aesthetic you want to set for your home will affect which lighting style to choose, but many of the styles we are seeing are: traditional, coastal, transitional, retro, rustic, and modern.
Type: Sconces are definitely trending! Adding sconces to your bathroom will take your home design to the next level.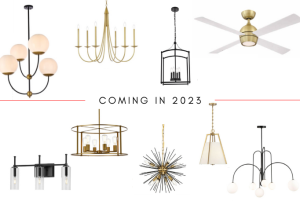 From our designers:
A cultivated home design is created with layers. Layers of textures come from all home elements such as flooring, rugs, furnishing, wall treatments, artwork, decorative ceiling options, paint colors, and of course lighting fixtures. All those parts come together as a whole and create a feel for any given area within a home and the home as a whole experience. Remember when you are making selections that your light fixtures do not all have to match another or other finishes in the space. In fact, they can stand out as a layer completely on their own. Lighting is many times the finishing touch, but that does not mean it was the last consideration! Thinking of lighting early in the process can allow you to be more creative with colors, metals, sizes, and styles throughout your home.
–
Interested in our seeing our top trending lights for 2023? Sign up to receive our exclusive lighting freebie here!

Bring Your Signature Lighting Style to Life!  Join our community.
Do these looks have you inspired and ready for some change? These options are unique to every Signature Homes community and are exclusively available to our homeowners. Start browsing our current communities online to find your perfect fit, and contact us to get started. We would love for you to build your life with us!
Explore Our Communities