December 10, 2019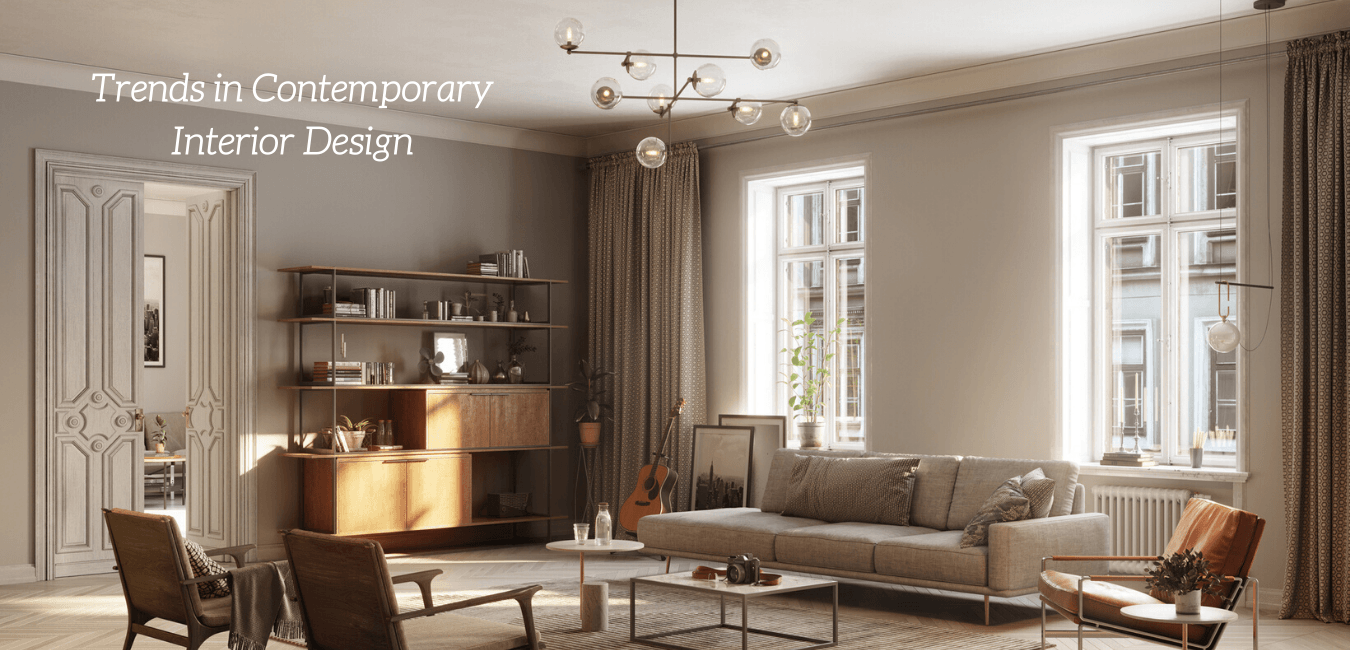 Instagram, Pinterest, magazines, and other sources of home inspiration have homeowners striving to keep up with the latest interior design trends. After all, everyone wants a photo-worthy home. Design professionals summarize what's happening in design at this very moment in time as contemporary interior design. 
Because contemporary design combines the best of modern and traditional styles and incorporating the latest looks, it's continually changing and evolving. Let's take a look at the design elements predicted to be on-trend for the upcoming year.  
Contemporary interior design trends for 2020
Top color picks
Southern Living reported that the colors of 2020 are a step away from the basic neutrals of 2019. "From a whimsical blush to a rich navy, 2020's trending shades may differ in pigment, but they seem to all share the same mission: to give the neutrals of yesteryear a shake-up."

Behr forecasted a mossy green called "Back to Nature" to be a hot hue for the new year. HGTV Home named "Romance" their color of choice and described it as a "posh blush pink with a slight apricot influence." Lastly, Sherwin-Williams selected "Naval," which is a daring navy color. Other interior designers predict burnt orange to be an "it" color for 2020. These colors may be bold, but there are many ways to incorporate them into your home! 
The latest in lighting
Lamps and light fixtures are easy to incorporate into your home, and they can make a significant  impact. If you're looking for lighting inspiration, Hayneedle named the newest lighting trends for each room in the house. In the kitchen, matte black fixtures, clear pendants, and geometric chandeliers are all the rage. While in the dining room, wicker pendants, industrial lighting, like branched chandeliers and romantic light fixtures, will be everywhere. In the living room, colored glass, wood bead fixtures, and architect floor lamps are must-haves. Lastly, use pendant lighting and wall sconces to add on-trend style to bedrooms.  
Emerging furniture
The 80s silhouette is making a comeback, according to interior designer Kaitlin Madden. Chunky, rounded, and geometric furniture creates this throwback silhouette. Marie Flanigan Interiors predicted that furniture with European-inspired details would also be in style this year. 
Accents and accessories
Accents and accessories are a great way to spruce up and incorporate trends into your already-decorated home. Kaitlin Madden says 2020 will be all about brass, abstract art, organic pottery, and olive trees. Elle Design agreed that real plants are in, and allegedly, oversized indoor floor plants overtook Milan Design Week 2019. 
These are just a few of the contemporary interior design trends to expect in 2020. If you're building a custom home, consider working these elements into your interior design! 
About Signature Homes: 
At Signature Homes, we know that home is more than just the place where you lay your head. Together, we'll build your dream home in your dream community. For the past 20 years, we've been helping homebuyers build not just their homes, but their lives. Want to experience the Signature Homes difference for yourself? Call 888-339-6051 to schedule a visit to one of our communities in Birmingham or Nashville today.
Explore Our Communities