July 7, 2021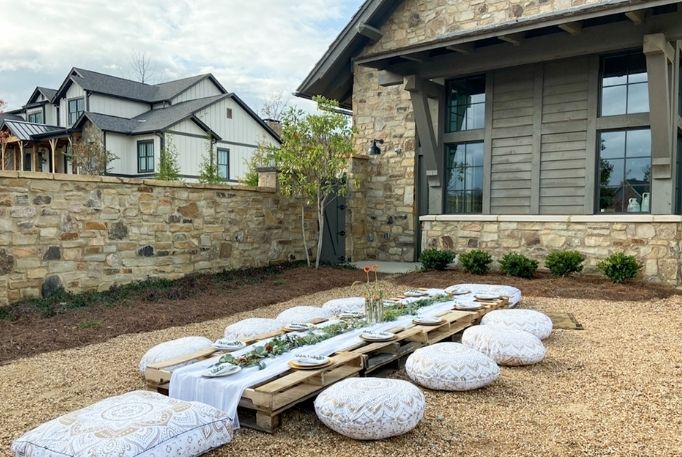 Summertime is near and dear to our hearts because of all the beauty that surrounds our communities during this season. Today, we are sharing some cute picnic ideas with you to execute in your own backyard or at your community clubhouse!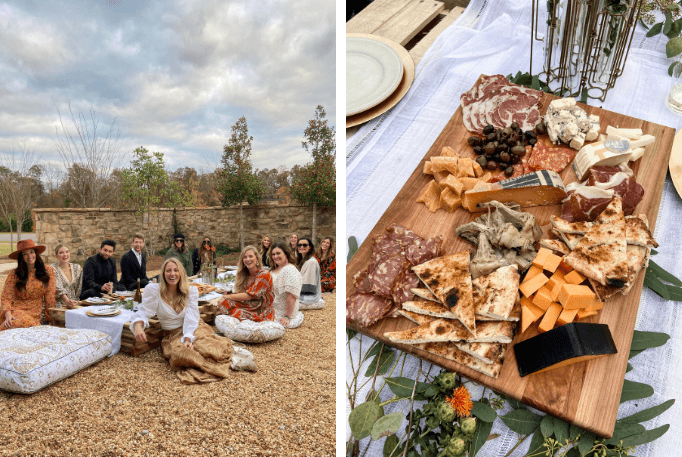 Bohemian is a style of decorating we are seeing indoors and out! Boho style reflects a relaxed vibe and incorporates natural elements and a neutral color palette. We couldn't think of a more perfect picnic theme to host a soiree at our Blackridge amenity center. See how we put together this boho picnic in today's blog post.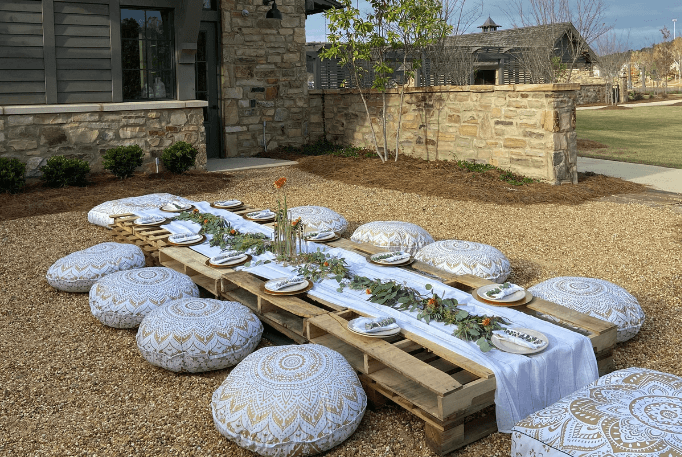 Picnic Ideas
Picnic parties are a great way to get outdoors and enjoy all the fresh air around you! This Summertime party theme encourages a socially distant gathering and can be executed as a casual event, or a more upscale event. That said, there are many elements you can include to elevate and build your picnic. Traditional picnic decor starts with the basics which include a rustic table, linens, and tasty treats. To upgrade your event to a boho-style picnic incorporate these picnic table ideas: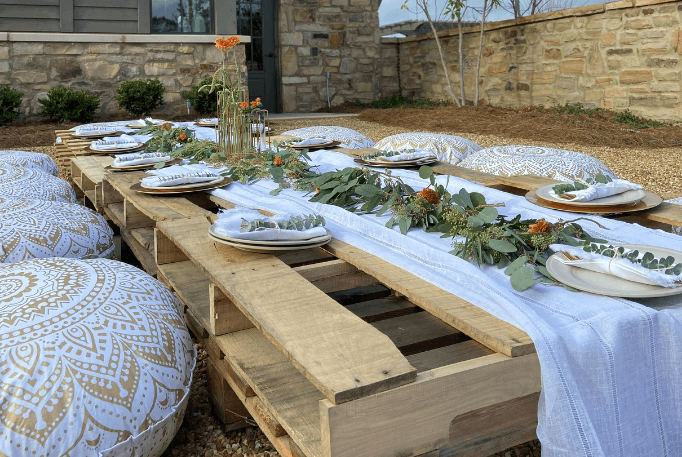 Boho Picnic Tablescape
1- Palette picnic table – We love this trendy, yet inexpensive picnic table idea! To DIY your own boho picnic table, all you'll need is a handful of wooden palettes. You can find these at hardware stores, supply companies, or big box stores for pretty cheap or sometimes completely cost-free. To achieve our boho picnic table below, we stacked two palettes on top of each other for height. If your wooden palettes aren't as thin, you may only need a few! For this party, we used 8 total palettes 
2- Florals – We chose to decorate our picnic table with lots of greenery and sprinkle in a few colorful flowers. Eucalyptus is an inexpensive way to fill a tablescape. For the centerpiece, we chose to give some height to the tablescape by placing flowers in a tall geometric metal flower vase. 
3- Table and Serveware – For an outdoor picnic, the best way to serve food is on melamine (plastic) plates or these bamboo plates that come with wooden cutlery. Very boho!
4- Add Fun Pillows – Don't forget about making your guests comfortable! For added comfort and a touch of texture, we rented these boho-inspired pillows from Prop House in Birmingham. You can find similar floor pillows online here.
5- Charcuterie Board – Create your own charcuterie board, or have one locally made! We enjoyed the crafts from local catering company, Tre Luna, which is located in Hoover, AL. Their chef, Brian Mooney prepared a 4-course meal to follow which was the perfect way to enjoy a night under the stars in our Blackridge community located on Lake Blackridge.
Explore Our Communities