February 2, 2021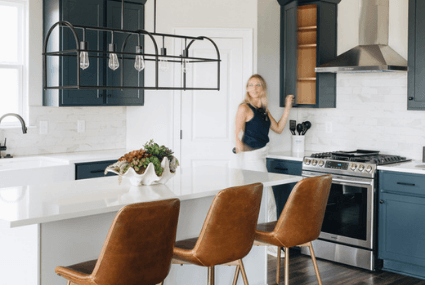 Dive into the newest kitchen design trends that are on the docket for 2021. Signature Homes takes you behind the scenes of what kitchen elements you should consider including in your new home build or kitchen remodel. Plus, download our NEW e-book with over 10 recipes to help get you cooking in your new kitchen!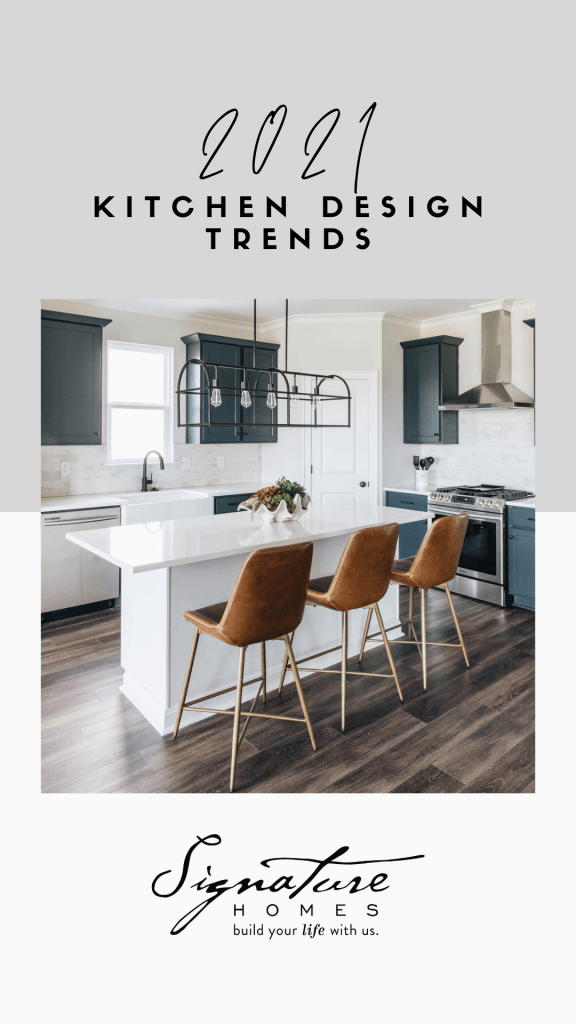 Kitchen Trends for 2021
There's no arguing that kitchens have always been the command center of the home. As we exit 2020 and enter into the new year, our new norms are following along and we can expect the kitchen to continue acting as our eating place, business meeting place, and so much more!
Spending more time at home will definitely make you stop and take inventory of your current spaces. Have you noticed that your kitchen is no longer functional for your new way of life? Our clients come to us excited to build their dream kitchen and they put a major emphasis on both fashion and functionality. Let's take a look at what our designers are forecasting for the top kitchen design trends in 2021.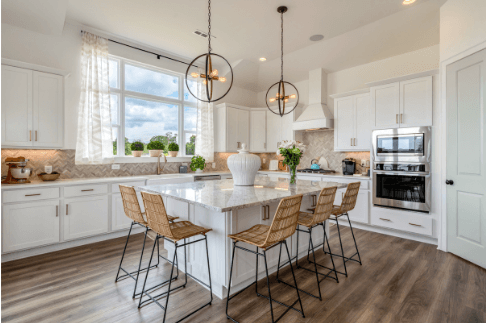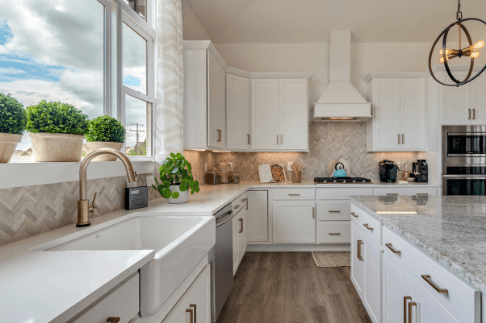 2021 Kitchen Design Trends
Bold Color Choices – No more blah when it comes to kitchen design. Homeowners want to be wowed each time they step foot into their own kitchen. In 2021 you can expect to see more colorful cabinets chosen for kitchen design. We are seeing our clients choose hues of blue, grays, and natural greens.
Return of the Classics – We are seeing brown cabinets come back! In alignment with bold color choices, homeowners are hoping to warm up their kitchen spaces in 2021. Of course, white kitchens are still popular, but many are returning to kitchen classics such as brown wooden cabinets as well as brass fixtures and finishes!
Moody Kitchens – Bold and beautiful just like the soap opera — some kitchens were born to be moody. Create a moody kitchen design by incorporating dark cabinetry, stainless steel appliances, and statement lighting.
Organizing and Optimization – There's no sense in having a gorgeous kitchen if it isn't functional. Homeowners are putting a special emphasis on organizing the spaces within their kitchen. One organizational feature people are looking for is a walk-in pantry. Nearly all of our new floor plans are optimized with large, walk-in, or even butler-sized pantries!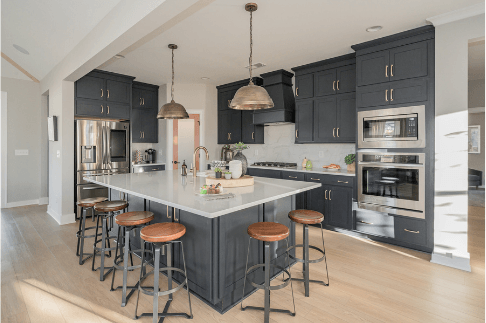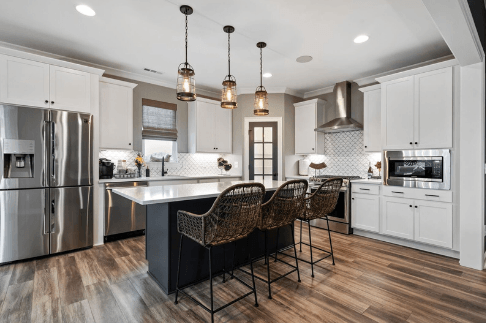 Kitchen Design Dos and Don'ts for 2021
We don't love the idea of disposable design, which is why we even hesitate to use the word "trends" in this post. Go with your gut, and live out your design truth. We know when you build your dream kitchen it will be nothing short of amazing. We'd love to help. Here are some helpful dos and don'ts our designers suggest when building your new kitchen.
DO walk through model homes or houses under construction so you can see options and choices in real life
DO screenshot images from Instagram and Pinterest that reflect your style. Make a mood board and see if all the images align under one design aesthetic. Then, take the inspiration board to your designer and let them help guide you to create the kitchen of your dreams
DON'T walk into a kitchen build/remodel blindly. Research and get a good idea of cost and determine your personal budget and limit before starting on any project. Our agents and designers are a great resource for tips on this!
DON'T get too many opinions on your kitchen design. As we stated before, grab inspiration that speaks to you, and consult with a designer to land on your perfect design. We find that when too many cooks are in the kitchen, things can get heated (a.k.a too many opinions from family and friends)
Contact us today in Birmingham or Nashville to start creating your new kitchen design in 2021.
DOWNLOAD our e-Book! Get over 10 recipes for the perfect date night at-home. Get your free download now!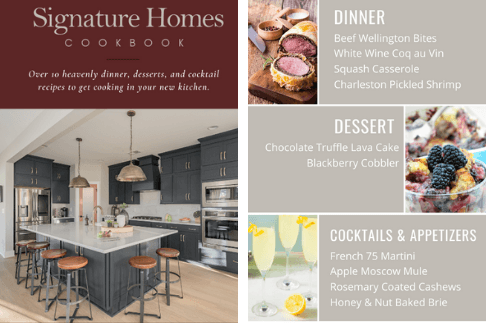 Explore Our Communities